OUR TEAM MEMBERS
Wait Crew
Christi Nash, CPA is the manager of QuickBooks® Cafe'. Christi has several years of experience in presenting QuickBooks® in a classroom setting and online in addition to custom work with various clients. Christi has helped both business owners and non-profit organizations, and is an "Advanced Certified QuickBooks® ProAdvisor."
When away from her role as "QuickBooks® Queen," Christi is a huge American Idol fan who enjoys hanging out in Greenwood with her husband Chris, and their two children.
Tara Leck, has many years of experience working with clients' QuickBooks® records. Tara has helped clients set up their chart-of-accounts, as well as managing their A/R, A/P, G/L and payroll. Tara enjoys teaching people about QuickBooks®, as well as "cleaning up messes" in clients' QuickBooks® files. Tara is also a Certified QuickBooks® ProAdvisor.
Tara and her husband Louie reside in Franklin Township with their 2 children.
In the Kitchen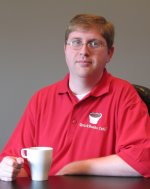 Joey Asbury, CPA is the head cook at the QuickBooks® Café. Joey has several years of experience as both a CPA and Certified QuickBooks® ProAdvisor. Joey has been very involved in helping our business clients plan and reduce their business and personal income tax obligations. If you are looking for ideas on how to save taxes, place your order with Joey!
When not helping business owners reduce their income taxes, Joey and wife Tammy are busy accounting for the activities of their five young children!
Brian Shaub, CPA is the manager of facilities and "computer guy" at the QuickBooks® Café. In this position, Brian makes sure that all cafe equipment is up-to-date and performs well for our webinars and remote clients. Brian's also a "Certified QuickBooks® ProAdvisor," "finds and fixes" clients' QuickBooks® errors, and assists clients with preparation of accurate business and personal tax returns. Should you form a corporation or "LLC"? Brian can help you select the best legal and tax structure for your business!
Brian resides in the Center Grove area with his wife Kristine and their three young children.